The Enigma: quiet but secretly judges everyone, used to be in love with David Duchovny until she realized she was a lesbian, mild animal hoarder
Department/Title: Wholesale Manager at NASC
Previous jobs/career: Mental health field
Favorite thing about working in the industry: Working for a woman owned business and working alongside my friends! Customers are also pretty entertaining and awesome! 
Biggest strength you bring to the company: Consistency, keeping my wife, Emma, in line
Hobbies during your spare time: Chasing after my toddler, watching trashy reality television, reading
Favorite binge worthy show: The Office
Favorite author or book: The Burgess Boys by Elizabeth Strout (or any book by Elizabeth Strout)
Best concert you've ever been to: Tie between Tool and Bon Iver. I did go to an Old Crow Medicine Show concert many many years ago that was a blast, had the best energy
If your personality could be embodied in a strain, what strain would you be? The Bling by Humboldt Seed Co. (what can I say, I love shiny things-especially jewelry) 
What type of stoner you are? The absent stoner (I actually prefer to kick back a beer or two instead now that I have a very active toddler to care for)
Favorite middle-of-the-night munchies: Homemade peanut butter cookies
Favorite pet (or pets): 
Reddington (named after Raymond Reddington from Blacklist). Red is a stubborn, rambunctious Australian Shepherd and is the best boy in the world. He is likely smarter than I am, fiercely loyal, protective, and is ALWAYS down to snuggle. He is my hero.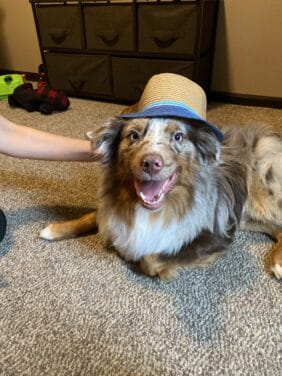 .       
.