The Persuader: has convinced all of her coworkers to watch Ginny and Georgia, obsessed with blueberry iced coffee, likes to make her coworkers fat by picking up their Wendy's 
Department/Title: Inventory Manager; Assistant Packing Manager at NASC
Previous jobs/career: Food Service Manager, Deli Associate
Favorite thing about working in the industry: The happy customers
Biggest strength you bring to the company: Positive attitude
Hobbies during your spare time: I'm a mom so I don't have spare time, haha!
Favorite binge worthy show: Game of Thrones, Locke & Key, Ozark
Favorite author or book: J. K. Rowling
Best concert you've ever been to: Chris Stapleton
If your personality could be embodied in a strain, what strain would you be? Laughing Buddha by Barney's Farm
What type of stoner you are? Sleepy stoner
Favorite middle-of-the-night munchies: Cereal
Favorite pet (or pets):
My Abbie girl, my wild but lovable German Shepherd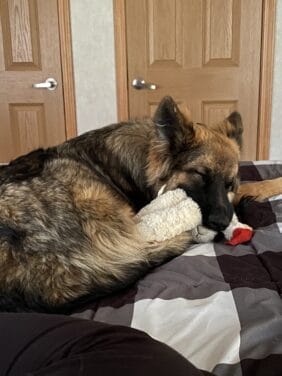 .