The Hippie: always smiling, does anything and everything asked of her, dependable, your pet's favorite person, your kid's favorite person, does not like pasta but otherwise normal and happy-go-lucky
Department/Title: Breeder for Dirty Bird Genetics
Previous jobs/career: Paper maker 
Favorite thing about working in the industry: Everyone is awesome and I get to learn a lot
Biggest strength you bring to the company: Flexible and quick learner
Hobbies during your spare time: Video games (Breath of the Wild is my favorite), fishing, motorcycle rides, playing with my cats, growing and smoking pot 
Favorite binge worthy show: The Office and Parks and Recreation
Favorite author or book: Unknown
Best concert you've ever been to: Boys of the Laugh or Carolina Chocolate Drops
If your personality could be embodied in a strain, what strain would you be? Variety Pack  #2 by Twenty20 Mendocino
What type of stoner you are? Either the storyteller or the mute stoner 
Favorite middle-of-the-night munchies: Funyuns 
Favorite pet (or pets): 
Khaleesi- tortoise shell cat. Fierce but fair and kind
Nina- tuxedo. Part dog, part human baby, looks like a cat
Abby- Yellow lab, Ferdinand the Bull, giant baby, super happy and kind
Jemma- brindle boxer, doesn't know what she wants, hair trigger (barks a lot), loves to lick legs
Jake- flashy brindle boxer, meathead, big goof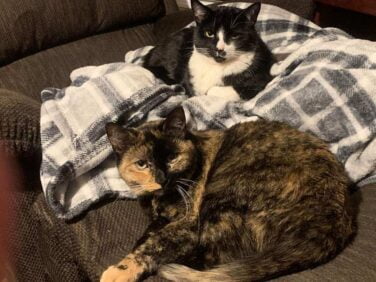 .